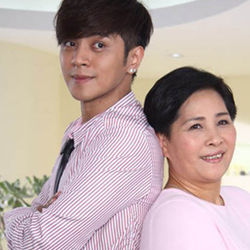 Taiwanese singer-host Show Luo and his mother recently shot a health drink commercial, earning a sum of NT$6 million (S$260,000).

However, the duo has no intention of pocketing the money for themselves.

Ever the filial son, Show expressed that the repayment he and his mother received for shooting the commercial would go towards his mother's plan of helping stray dogs. Building a shelter for the stray dogs would need at least NT$10 million (S$464,000).

To that, Show's mother said laughingly, "[We're] still in need of money. [I hope] more companies would invite me for endorsements."

Known for phoning his mother daily, Show is currently busy with two commercial shoots.

"I reached home at 7am, after I finished my first commercial shoot. My mother was still awake [when I arrived home]. She said she could only be assured after knowing I was safe. Instead, I'm worried about her condition today. After all, she's the main lead of the commercial!" Show revealed.

Show's mother quipped that she "was feeling very good" and compared filming her first commercial with her son to that of "an elementary school child on a field trip".