30 mars 2010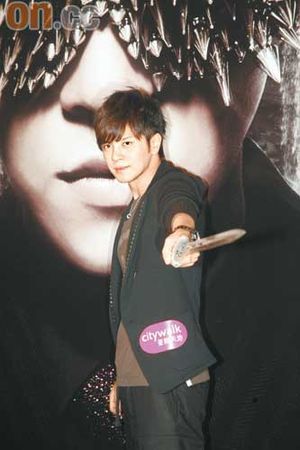 Source: on.cc
Translation: casablanca-- @ http://asianfanatics.net/
Tickets to see Taiwanese Dancing King Show Luo (Xiao Zhu) at his three concerts in April sold out in a mere 2 hours, so as a way of thanks, yesterday he came to Hong Kong to hold a hugging party. Somewhat vain, he banned fans from touching his hair, and claimed that after he was kissed by male fans, also banned fans from kissing him!
Xiao Zhu will be having three concerts as part of his "2010 Show Luo Dancing Skills World 3D World Live Tour" from April 30th to May 2nd, tickets to which sold out within 2 hours. He arrived at a mall to hold a special thankyou party for his fans, and gave ticket holders "a hug of love". Of the 3000 fans who lined up, there were little kids who dressed up as Xiao Zhu and Rainie Yang's characters in their drama Hi My Sweetheart, causing Show to exclaim their cuteness and take pictures for reminiscing.
Not worried about "losing out"
Asked if he was worried about being groped, he said that as a boy he's not overly worried, but revealed that he has met some crazy fans before. "Once, while I was at a wedding photo event with fans, a female fan requested a shot of us facing each other. Suddenly she stepped forward and kissed me, luckily I managed to evade her. (Let her kiss you?) At these events everyone should follow the rules, and I have to be fair to everyone. (What other rules are there?) They can't touch my hair, no kissing on the mouth... kissing is pretty dangerous!" He also said that a male fan had kissed his forehead once, scaring him to jump back a couple steps.
"Black Pig" leaves Hong Kong
To reports of SaGei's wedding, Xiao Zhu expressed surprise, saying "I just heard news about their breakup, but this news is between them. (WIll you go to the States for a secret wedding yourself?) Right now, lots of people will know about artists going to the States to get married, so I will go elsewhere! Haha, I haven't thought about getting married yet." After attending the hugging party, Xiao Zhu left on a flight back to Taiwan, where close to 80 fans went to the airport to send him off. He left wearing all black, added with a black mouth mask, and was dubbed "Black Pig".
Commentaires sur Xiao Zhu offers body but bans kissing and head touching